ENT Services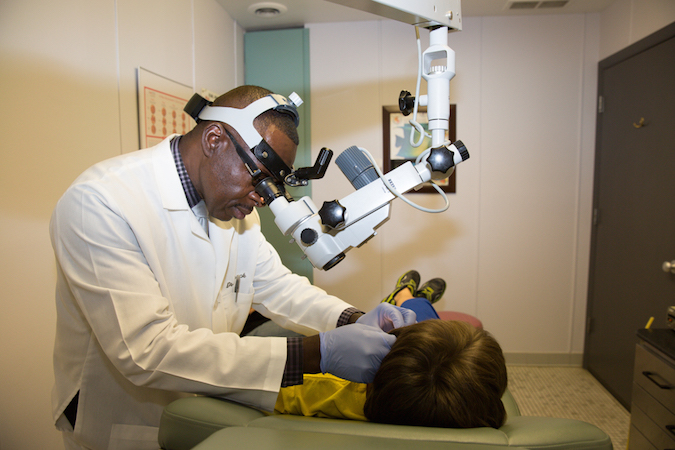 Downriver ENT strives to be your choice when you're looking for an ENT specialist in the Allen Park, Southfield, Dearborn, or Detroit, MI areas. We're committed to providing comprehensive and compassionate care for all our patients in order to improve their quality of life. Dr. Pinnock and his staff are board certified ENTs who are able to utilize a wide array of treatments and services in order to best serve their patients.
How Is an ENT Different From Other Doctors?
Ear, nose, and throat doctors (ENTs) are doctors that specialize in the medical and surgical treatment of disorders and diseases related to the ear, nose, throat, and related structures of the head and neck. ENTs are capable of treating a large number of disorders and diseases, including but not limited to allergies, ear infections, and deviated septums.
Our Services
Our services at Downriver ENT span a wide spectrum. Here's a quick rundown of some of the services we provide:
Allergy Testing & Treatment – We test our patients for allergies, which most commonly include pollens, household allergens, and mold.
Cancer Diagnosis & Treatment – We diagnose and treat oral, neck, and head cancers.
Ears – We check for hearing loss and hearing disorders such as tinnitus.
Head & Neck – We examine for a variety of cancers that can develop in the head, neck, mouth, and throat.
Hearing Aids & Audiology – We provide comfortable, convenient hearing aids and comprehensive audiology care in order to help our patients achieve vibrant, full-spectrum hearing.
Hospital-Based Surgery – We perform sinus surgery and nasal surgery in order to drain sinuses, alleviate nasal blockages, and correct deformities.
Nose & Mouth – We make sure that your nose and mouth continue to play important roles for your body by checking for obstruction, tumors, infection, asthma, allergies, and more.
Pediatric ENT Services – We generally test our very young patients for ear infections and food allergies, though our adult services are available for them as well.
Throat – We take care of throat conditions that can consist of throat infections and problems with the tonsils and adenoids.
To learn more about these services, please visit the corresponding links on the right side of the page.
Contact Your Allen Park and Southfield ENT Today!
If you're interested in scheduling an appointment with us, you can give us a call at our Allen Park office at (313) 381-8787 or our Southfield office at (248) 304-7772. If you have questions about any of our services, please feel free to contact us. We hope to hear from you soon!